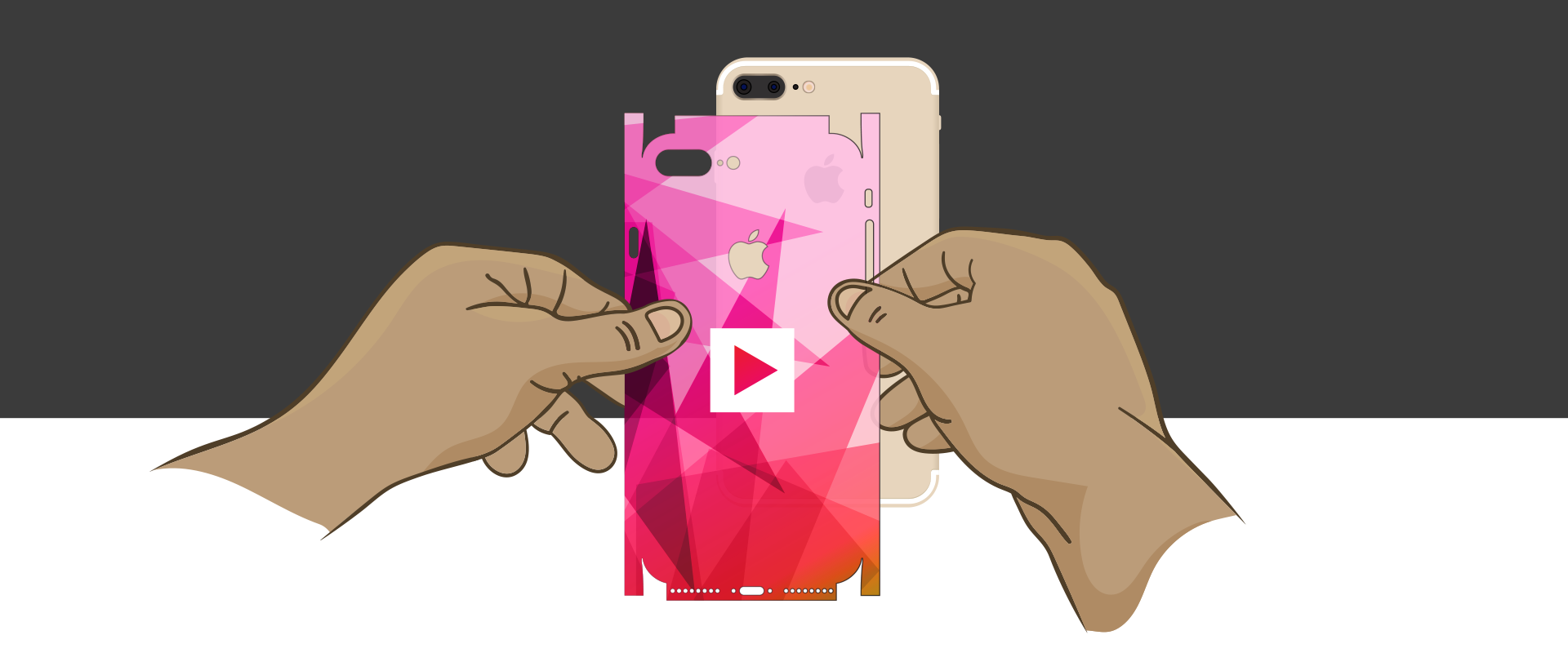 Precautions Before Applying Vinyl Skin
Always clean the device with a Microfiber Cloth. 
Vinyl should be bubble & dust-free for a smooth finish. 
Never use sharp-edged tool directly on device. 
Skin seems to stick better after a few hours of application.
Do not use excessive heat on the device directly.
The first step is Weeding (removing negative shapes from the cut with the help of a Weeding tool). 
Before pasting, clean the device with a microfiber cloth. 
Peel the skin from its adhesive back (release paper) carefully. 
Pick a starting point, precisely align peeled off skin with the bottom such as speakers/charging port. 
Then start applying skin from one direction by pressing down with the help of fingers & a little pressure. 
Gently smooth the skin down onto the surface of your device. 
The starting point may be different on various size devices but the basic technique will remain the same. 
Use squeegee (a tool for vinyl pasting) to get rid of bubbles on flat surfaces. 
Use Heat Gun/Hairdryer & Microfiber cloth to smoothen corners and edges. 
Apply heat where needed and rub it with a microfiber cloth.   

Paste skin partially on paper then align with device, once aligned perfectly remove release paper & paste it.
Method 2: Paste masking tape over logo then remove it after pasting the shape on its accurate position. 
Press from the center out and gradually remove the tape when it gets stick to the bottom. 
Small Logos can also be pasted using any long tip tool. 

By Folding Half Release Paper
Do not remove the release paper entirely from the skin for pasting. 
Peel the half skin and fold the release paper vertically into half. 
Precisely align & paste skin onto the device, once satisfied remove the remaining part from the release paper. 
This method is helpful when applying the skin on big size devices (Laptops, iMac & Gaming Consoles). 
Folding half release paper secures the other half from getting stuck anywhere else. 
This method is helpful when only one person is pasting skin on big sized devices without help.

Remove skin entirely from the release paper & repaste it partially for easy installation. 
After successful application on half device, remove the remaining paper and paste onto device.
This method works well only on thick vinyl material.